Heat Store Repairs & Replacements in Birmingham, Sutton Coldfield, Solihull, and Bromsgrove
Do you need the assistance of a heating engineer to repair your heat or thermal store? Summit Plumbing & Heating Ltd can quickly detect problems, repair them, and replace them to restore your heating system. Whatever the cause of your issue, our skilled heating technicians are here to help. To reach us, dial 0121 294 9504.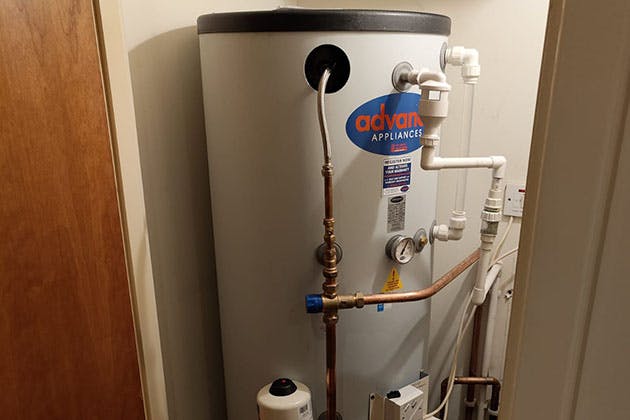 Thermal Store Repairs & Replacements in Birmingham
Thermal stores from companies like Gledhill have been around for decades, and with the growing popularity of renewable energy, now is a great moment to invest in one. A thermal store is a container that stores and manages heat until it is needed.
Summit Plumbing & Heating Ltd can repair, replace, or install thermal storage and provide the best advice/solution for your needs.

How do thermal stores work?

Thermal stores differ from a traditional hot water cylinder in that the stored water is not supplied directly to the taps from the thermal reserve. It is instead heated by passing it via a plate heat exchanger, which transfers heat from the thermal store water to the domestic water. Heat exchangers, particularly flat-plate heat exchangers, may transmit a large amount of heat in a short period of time. Thermal stores can heat the water using a variety of heat sources. Solar is a popular choice, and the homeowner can profit from natural solar energy produced throughout the day by installing a high-efficiency solar coil.



The benefits of thermal stores?
Thermal store cylinders, such as BoilerMate and PulsaCoil, are generally low maintenance because they are kept at mains pressure, and therefore there is no chance of Legionella or contamination because there is no standing water.

Our Repair Services
We offer repair and maintenance services for all thermal store products including:
PulsaCoil Series
The Gledhill Pulsacoils is a popular direct thermal store manufactured by Gledhill. It is built of high corrosion-resistant stainless steel and provides mains pressure hot water using off-peak electricity, making it ideal for usage in apartments.

Tristor Stores
The Telford Tristor thermal store is an excellent choice for combining various heat sources to provide household hot water and space heating. The ribbed heat exchanger coil maximises energy efficiency, making this form of thermal store ideal for residential complexes.

Book a thermal store repair or replacement in Birmingham or the surrounding areas
Call Summit Plumbing & Heating Ltd today at 0121 294 9504 or fill out our quick contact form to enquire about our thermal store services. Summit Plumbing & Heating Ltd provides thermal store services throughout Birmingham and the surrounding regions, including Solihull, Sutton Coldfield, and Bromsgrove.